SOCIAL JUSTICE LEAGUE HAS OFFICIALLY LAUNCHED
"There is no shortage of creative, proven solutions to the issues communities of color face. They are, however, under funded."
Read more about the Social Justice League on the Blog. Trust us, you don't want to miss this!
⭐ SOCIAL JUSTICE LEAGUE WEBINAR WITH PROGRESS ALLIANCE⭐
On March 23rd, RVC's longtime trusted partner, Progress Alliance, invited Chris Rhodes and Hana Jang to speak with Progress Alliance members about turning Trust-Based Philanthropy into action through the Social Justice League!
ASK ME ANYTHING
Jess Hartman (They/Them) – Operations Support Program Manager
🤩 What drew you to RVC?
I was part of the second cohort of the Community Impact Fellowship Program, and was hired on to my host organization, Families of Color Seattle after the program ended. I started in the nonprofit sector at a white-led organization and very quickly got discouraged by the lack of integrity in the sector, especially at white-led orgs.

RVC really opened my eyes to what I do and do not have to accept. It's really validating to be in space with POC with shared values and direction for what they want for their communities. I gravitated towards back-end operations work, and being on the receiving end of RVC's support as a Fellow and again as an Operations Support partner org made me want to be a part of the work more directly!
🤩 What is your favorite part of your job?
Something that everyone on my team has told me is that you would think the Operations Support team would be the most stressed out team, but everyone really values joy and having fun. We're taking the work seriously, but not letting the work stress us out too much which I really appreciate. I've been a solo operations person at an org and it can be really stressful and feel like everything is on fire all the time. I really wanted to be a part of a team that I can lean on for support and have reality checks with, to be like, "That's actually not really important right now, this is what's important."
There's a really strong emphasis on being in right relationship with one another, both among the team and with partner orgs, that fosters a collective culture. The relationship is the foundation you can lean on when things do get hard or stressful. Knowing that there's shared purpose and trust, being honest with one another, asking if our actions are tangibly benefitting one another, and if they're not, being able to have an honest conversation to course correct and shift are all key to this collective culture.
🤩 What does being "rooted in community" mean to you?
Shared purpose, trust, and integrity. It means respecting the agency and self-determination of different communities, even ones I don't belong to. It means making connections and understanding how our purpose and struggles are interconnected.
🤩 What is your vision for the future?
Liberation for all oppressed peoples!
🤩 What is your favorite lunch?
I've been really into making kaya toast. I recently learned how to make the jam at home so it's really nice to have that stash at home. It's the perfect combo of sweet and salty and crunchy, but you get to dip the toast in eggs and have it with coffee for bitterness…all the good flavors at once!
🤩 What is the theme song of your life? And why?
Anything off of the Steven Universe soundtrack. It's hard to pick one song. That soundtrack got me through this pandemic and the show gets me through life.
It's a children's show, but it has a lot of queerness and teaches a lot about mindfulness and trauma so when I get stressed out I like to listen to it and it's really grounding.
🤩 Who inspires you?
I'm involved with a local Filipino youth organization that is organizing for the sovereignty of the Philippines and genuine democracy. Recently there was a massacre of indigenous people and teachers of the Lumad community and one of the people that was killed was Chad Booc. He graduated from university in computer science and engineering, graduated with honors, and had a bright career in front of him but decided it would be more useful to dedicate his time to teaching math and science at Lumad schools. The schools are known for teaching indigenous agriculture practices, Lumad language, and indigenous sovereignty, and have been facing displacement and violence from the government so that mining companies can take their land.
I'm really inspired by youth leaders who are so decisive in taking action to serve their communities even when there's this narrative and social pressure to build a career and climb the ladder. But they're able to see so sharply that pursuing individual goals doesn't mean anything when the larger community is suffering.
🤩 What is your favorite local business to support?
I love just being able to go to the International District and pick wherever my heart desires. A favorite place when it's sad Seattle rainy and I need comfort food is Canton Wonton House. I'll get a congee and feel warm.
🌞HOW DO YOU BRIGHTEN UP YOUR DAYS?!🌞
The dreary spring weather is upon us and we're continuing on our quest in asking our staff "How do you brighten up your days?!"
Anbar (she/her) enjoys getting some activity in with her under the desk treadmill and Christian (he/him) soaks in the sun on an outdoor run!
How are YOU brightening up your day? Tag us (@RVCorg) in your social posts to let us know!
🤝PARTNER HIGHLIGHTS 🤝
💖 Is there something new that your team has been working on that you'd like folks in the community to know about?
Upgraded our website https://alphabetalliance.org/ that went live today.
💖 Is there something new and exciting (in general) that you'd like for us to highlight?
Open house for those that are curious and want to learn more about Alphabet Alliance for people to come through to to learn more: https://forms.gle/qAtk9ekBqNMYYXFk7.
💖 Any big announcements? Transitions? Comms or Blogs you'd like us to repost?
Alphabet Institute applications will be open soon and cohort will start in the summer.
💖 Things you'd like the general public to be aware of?
💖 Is there a call to action you'd like us to push? You can make a donation to the Alphabet Alliance of Color here!
🤝SPEB (SUPPORTING PARTNERSHIPS IN EDUCATION & BEYOND🤝
💖 Any big announcements? Transitions? Comms or Blogs you'd like us to repost?
Stay in touch with all things SPEB related; to Facebook, Newsletters, and more by saving our Linktree.
💖 Things you'd like the general public to be aware of?
Amber, our Assistant Director is back from maternity leave and excited to get back to work. She can be reached at [email protected]
💖 Is there a call to action you'd like us to push?
We are seeking a pool of BIPOC graphic recorders in the Seattle/Tacoma area that identify with our communities and can offer visual representations of our conversations and shared work. Because our graphic recordings center around anti-racism, family-school partnerships, and the liberating power of collective leadership identity and a lived experience through racial equity lens matters.
💖 SPEB Team, Roles, & Why They Do What They Do!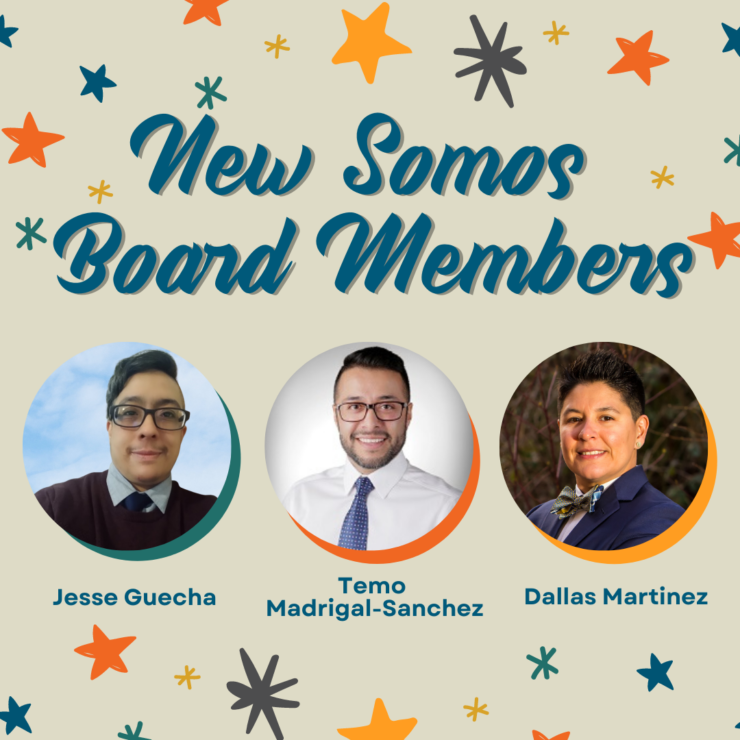 *CORRECTION* We apologize to Somos Seattle, Jesse Guecha, & Temo Madrigal-Sanchez for the mistake in our February newsletter. We misplaced their names in the graphic announcing their Board members. The above image showcases the correction.
Read Somos Seattle's full highlight from last month to learn about each of their new Board members!
📣 COMMUNITY EVENTS & RESOURCES 📣
You're invited! Pacific Hospital Preservation & Development Authority (PHPDA)'s 40th Anniversary Opening Reception is on April 13th at 4-6 PM PDT. They will be recognizing their visionary founders, launch an exciting mosaic project, and recommit to their community and health equity work. Learn more & register (it's free!)
Celebrating nonprofit staffers and communications-focused academics making a difference in the field of communications for good. Thanks to the generous support from The Rockefeller Foundation, The Frank Karel Scholarship awards complimentary registrations to nonprofit staffers and communications-focused academics who would not otherwise be able to attend ComNet22. Learn more & apply here.
💫 OPPORTUNITIES IN OUR NETWORK 💫
RVC is hiring for Capacity Building Lead and Communications & Graphic Design Manager
Front & Centered is hiring for a Communications Lead & Program Engagement Lead
Pangea Legal is searching for a Project & Team Coordinator & Legal Services Project Coordinator
Training Resources for the Environmental Community (TREC) is searching for a Program Coordinator
Communities Rise is searching for a Capacity Building Program Manager and an Attorney
WA Early Childhood Policy Fellowship is searching for a Fellowship Program Coordinator
City of Seattle is hiring for a Food Systems Design Fellow
Seattle Chapter of the Black Panther Party is searching for RFPs for a Project Manager Contract
Have a job posting or opportunity that you'd like us to feature in our next newsletter? Please email the details to [email protected]
✏️ BLOG HIGHLIGHTS & COMMUNITY RESOURCES ✏️
Did you miss the February Newsletter? Check it out.
Green Pathways Final Update, written by Flo Sum
RVC Redesigned: Our New Organizational Chart, written by Ananda Valenzuela
RVC's New Co-Executive Director Structure
Never want to miss a blog? Subscribe to our Changemakers Blog!