We are well underway into the new year and it's been off to a great start! We wanted to highlight what's been going on at RVC, including an update on how the launch of Green Pathways Fellowship Program has been going, RVC and Vu being featured in a couple of articles, and welcoming two new members to the RVC family! We also recently sent former ED Vu Le off in style at Vu's Vegan Roast on Feb. 22 at the Seattle Aquarium.
Make sure to read on to find out about the great work that our partner organizations are doing. And stay up to date by checking out our latest blogs to see the cool stuff that's been happening at RVC!
---
An update on our leadership transition!
This month, our Interim Executive Director Ananda Valenzeula penned an update on what has been going on behind the scenes with the RVC leadership transition now that our founding ED has stepped down. Spoiler: RVC is going through not only a leadership transition, but also an organizational transition.
Ananda breaks it down in our Changemakers blog. Read their post here!
---
Founding ED sent off in style, with light insults 😉
On Saturday, Feb. 22, RVC said a fond farewell to our founding ED, Vu Le, with Vu's Vegan Roast. We had more than 240 guests and raised about $60,000 for our RVC programs. It was an amazing night full of laughter, jeers, and maybe a few tears. Check out the gallery of photos from the event!
---
Meet RVC's newest team members!
Say hi to Regina Dove! Regina is our new Capacity Building Associate!
Regina was born in SoCal, raised in Kent, and has lived in the Central District/Rainier Valley for over a decade now. Regina's first paid gig was at the daycare at the Meredith Matthews YMCA in the Central District back in high school. Since then, she's worked in a variety of positions at local nonprofits, from administrative assistant, to mentoring, to program manager and director.
Her soul work draws her to connecting with people at the individual level to process the impacts of trauma and systemic oppression, as it manifests in our bodies and hearts. In addition to joining the Capacity Building Team at RVC, she is also a recently certified doula and seeks to provide support to BIPOC and LGBTQ families.
Regina loves interpreting dreams people had the night before, going to music shows, and letting her cat, Marceline, melt into a puddle on her lap. 
---
We hope you all stay safe out there
We know everyone is concerned about the spread of novel coronavirus (COVID-19) here in Washington state right now. We know that there is an inclination in our sector to push through even when we don't feel well. We urge everyone to be extra judicious and to exercise caution during this time.
We've posted some recommendations from King County Public Health and the CDC on how to slow the spread of germs here.
---
Green Pathways Winter 2019 Update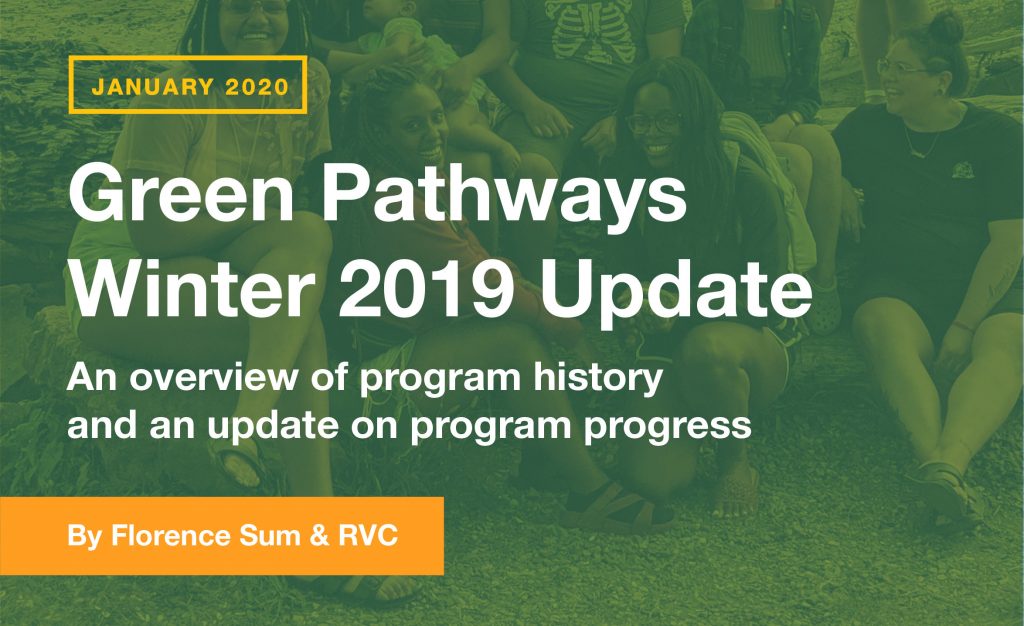 We released another Green Pathways paper, "Green Pathways Winter 2019 Update," written by Green Pathways Program Manager Flo Sum not too long ago. The paper details experiences in the first half-year of this pilot program. The paper goes over the program's history, recruitment process, outcomes, and lessons learned so far.
---
RVC and Vu Le featured in multiple articles
Our founder and former ED Vu Le and organization was recently featured in a news story in the South Seattle Emerald. The article talks about Vu's inspiration for founding RVC, our history, and our vision going forward, with quotes from multiple staff. If you want to learn about RVC's origin story, be sure to check out the story!
Vu was also featured in another news story in the International Examiner. The article talks about Vu's work with RVC, the challenges that nonprofit organizations face, and (at the time) his nervousness over getting roasted at Vu's Vegan Roast.
---
RVC Partner Updates
RVC strengthens the power of communities of color in order to create a more equitable society through capacity-building, leadership development, and operations support. We accomplish this through our core programs and services as well as through leading partnerships with community members and organizations of color. These members and organizations provide support services tailored to the strengths and needs of the communities they serve.
Here are this month's highlights of some of our partners' amazing work!
East African Community Services kicked off 2nd Annual Black History Learning Week
East African Community Services, RVC's partner organization that is dedicated to improving the wellbeing and quality of life for refugees and their families in King County, recently held their 2nd Annual Black History Learning Week. From Feb. 17 to Feb. 21, during mid-winter break, the organization's scholars engaged with students to learn about Black history in the United States and in East African countries.
The program features interactive history projects, fitness activities, games, and free lunch and snacks. At the end of the week, the scholars presented the students' research projects. Check out their Facebook page for posts regarding historical Black figures and their contributions, so you get an idea of the important things these students get to learn about!
Powerful Voices hosts 3rd Annual Revolutionary Self Care Day
Powerful Voices, a partner organization of RVC that creates brave spaces with girls* of color (*people who identify as girls or who are socialized as girls) to take charge of their own power as leaders, recently hosted their 3rd Annual Revolutionary Self Care Day. The event was held on Jan. 19, to commemorate Martin Luther King Day weekend, at the Powerful Voices' office. The office was converted into a salon and self care haven staffed by womxn of color volunteers who did the participants' hair, nails, and make up, as well as lead self care activities.
According to their website, "MLK speaks about our responsibility to one another. And how that means that we need to take care of ourselves intentionally. In memory of Dr. King, we are throwing an enriching self care day where volunteers are able to contribute to genuine and collective self care at different levels. Revolutionary Self Care Day is for girls and women of color, by girls and women of color. It is a free day for our community to pamper itself."
Surge Reproductive Justice and Global Perinatal Services host Doulas for All
Surge Reproductive Justice, Global Perinatal Services, and other organizations hosted Doulas for All Advocacy Day. While Governor Inslee's budget includes doulas services to be covered under Medicaid, the state legislators still have to approve the budget. The event involved going to Olympia to speak to these legislators about the importance of doulas for Washington state families.The event further pushes the commitment to making birth support accessible to all families in Washington, to improve health outcomes for families from low-income backgrounds, and to share powerful stories about how a birth worker or doula made a positive difference in the life of a parent or child.
Congolese Integration Network featured in article by South Seattle Emerald
Congolese Integration Network (CIN), a partner organization of RVC that supports Congolese immigrants integrate into American society by providing access to critical resources in the King County area, was recently featured in an article, entitled "The Passion that Drives the Congolese Integration Network," in the South Seattle Emerald. The article includes quotes from Managing Director Franciose Milinganyo, Executive Director Floribert Mubalama, and Youth Program Manager Providence Kamana.
While the piece talks about CIN's services, it centers around Providence and his work with the youth program and CIN's vision to support the youth and young adults in the Congolese community. The article talks about the youth soccer program and African pride program, which helps develop a sense of belonging and identity and continues to teach them about their heritage.
Also make sure to check out the blog we wrote about CIN!
Be a Changemaker
RVC Changemakers are folks who believe that leadership development and capacity building in communities of color should be spearheaded by the individuals working within these communities. By committing to giving $80 or more a month, you will be making a pivotal impact in communities of color in the Greater Seattle area.
Changemakers will get a shoutout in our annual report, be invited to our special events, be invited to further engage in other ways, such as through volunteering, lunch and learns, or maybe even mentoring. Our Changemakers will also just be lavished with so much appreciation for their commitment to social justice at the grassroots level!
---
Job Opportunities In Our Network
RVC is hiring a Grant Strategist.
Big Brothers Big Sisters Puget Sound is hiring for multiple positions.
Bike Works is hiring for multiple positions.
Casa Latina is hiring a Director of Development.
Child Care Resources is hiring a Chief Executive Officer.
Coalition Ending Gender-Based Violence is hiring a Fund Development Manager.
Families of Color Seattle is hiring an Executive Director.
Forterra is hiring a Director Community Development.
Rainier Beach Action Coalition is hiring for multiple positions.
Social Venture Partners is hiring an Executive Director.
Solid Ground is hiring for multiple positions.
Stolte Family Foundation is hiring an Education Program Officer.
Tilth Alliance is hiring a Community Education Program Coordinator.
United Way of King County is hiring for multiple positions.
Voices of Tomorrow is hiring for multiple positions.
Washington Bus is hiring for Co-Executive Directors.
Washington Nonprofits is hiring a Director of Policy and Communications.
Washington Trails Association is hiring a Development Director.
---
Community Events & Important Dates
March 19: Building Racial Equity Training
March 27: Somali Parents Education Board Inaugural Spring Gala
April 25: Stop Genocide, Stop Ebola, Public Awareness
May 2: SMP's Gala Celebrating
---
RVC Stuff To Read
A Community Impact Fellow looks to develop as a leader and combat reproductive oppression through community organizing, written by RVC
After stepping down, RVC founding ED Vu Le reflects on six years of collaborative leadership and capacity building, written by Eric Card and Stacy Nguyen
Somali Parent Education Board continues its pursuit to close the education gap by roadmapping its growth, written by RVC
Never want to miss a blog? Subscribe to our Changemakers Blog!
!f you have job postings or events that you would like mentioned in our newsletter, please email the details to Stacy. We do our best to fit everything in, but we may not always be able to.