We hope you've been keeping warm and dry during this cold and rainy fall season so far! In this month's newsletter, we have some exciting announcements and updates, including RVC's new branding, an update on our search for our new Executive Director, and welcoming two additional staff members!
Make sure to read on to find out about the great work that our partner organizations are doing. And stay up to date by checking out our latest blogs to see the cool stuff that's been happening at RVC!
Many new faces and friends at RVC's Open House
On Oct. 16, we invited community members, donors, volunteers, and friends to come to our office in the International District to meet staff and deepen relationships. We were excited to see so many new faces. Here are photos!
RVC has rebranded to better reflect our work!
We are excited to reveal that RVC has undergone a rebranding process! As you may have noticed, we've been hard at work behind the scenes updating our website with new colors and landing pages and changing the way we communicate and present our news through social media. Our name is officially RVC! Our logo has been updated and our tagline is now "Rooted in Vibrant Communities."
In the last few years, we have expanded our programmatic work to reach communities and organizations outside of the Rainier Valley region, and since we now support our partner organizations in a variety of ways, the term "corps" also felt outdated.
That being said, we wanted to stick with RVC because we are attached to the name and, based on the research we did during rebranding, so are a lot of you! We see rebranding RVC as a step in continuing our work while expanding that work and outreach. To learn more about the process and the reasoning behind this change, check out our blog!
Update on RVC's search for new Executive Director
We recently posted a blog updating everyone on our search to find our departing executive director Vu Le's replacement. The transition has brought an opportunity for us at RVC to challenge the sector by being mindful about how we define and think about traditional notions of leadership, organizational structure and dynamics, and hiring practices.
While we figure out next steps, we have decided that our managing director, Ananda Valenzuela, will serve as interim ED, but this is not a solo ED structure; ED responsibilities will be split up between all RVC Directors.
Navigating the nonprofit sector, while disrupting systems and questioning traditional ways of doing things that can cause harm to communities, is complex and can be scary. We feel fortunate to have an incredible board and staff. And we can't wait for what comes next!
Meet RVC's new team members!
Say hi to Amanda Mancenido!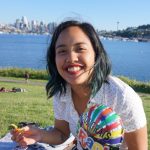 Amanda (she/her) is our new Organizational Learning Coordinator!
Amanda grew up in Texas, but moved to Seattle to pursue her Master of Public Health from the University of Washington. She's most passionate about using her data and communication skills to advocate for the health and wellbeing of historically marginalized communities, particularly LGBTQ folks and communities of color. In her work, she hopes to amplify the voices of communities and help tell their stories of resilience.
Amanda loves good food and taking long walks, and will happily geek out with you about women's soccer, music, and board games.
Say hi to Michel Baños García!
Michel (she/her) is our new Operations Support Program Coordinator!
Michel was born in Mexico City, but has spent most of her life in the United States, raised in a home deeply tied to her Mexican roots, thanks to her mom. She has over seven years of experience as a community organizer where her work has focused on race and equity, immigration, higher education access, and shifting towards an intersectional mindset. Michel deeply believes in collective power and our community's ability to heal and create the lives we are fully deserving of.
She's a Sagittarius, and loves adventure! Whether it's exploring a new city/town, going to a new restaurant, or trying a new activity, she is down!
RVC Partner Updates
RVC strengthens the power of communities of color in order to create a more equitable society through capacity-building, leadership development, and operations support. We accomplish this through our core programs and services as well as through leading partnerships with community members and organizations of color. These members and organizations provide support services tailored to the strengths and needs of the communities they serve.
Here are this month's highlights of some of our partners' amazing work!
AGE UP reach their fundraising goal at their annual Family Feast event
AGE UP, a grassroots partner organization of RVC that empowers youth to develop positive identity and collective strength through ultimate frisbee, recently held their annual dinner and fundraising event, called "Family Feast 2019!" This was a free event for Southend youth, alumni, family, and coaches. For others, there was a sliding scale for ticket prices based on what's reasonable for their respective guests!
The event was a massive success as it was AGE UP's biggest Family Feast ever. More than 450 people attended the sold-out fundraiser and welcomed 240 new folks into the AGE UP family. The Family Feast was held at King's Hall in Seattle, a new and bigger venue to accommodate the ever-growing event. They also passed their fundraising goal and raised $55,000!
East African Community Services launches new Strong Girls, Powerful Leaders program
East African Community Services (EACS), RVC's partner organization dedicated to improving the wellbeing and quality of life for East African youth and their families in Seattle, recently launched their new Strong Girls, Powerful Leaders program. The program creates a space for Muslim girls to build relationships, confidence, and self-esteem while learning, encouraging each other, and engaging with one another.
According to EACS' website, "With increased sexism, racism, and xenophobia, there has never been a greater time to empower young, East African girls living in South Seattle … Strong Girls, Powerful Leaders is a strategic component of EACS' youth mentorship and empowerment programming."
There will be monthly meetings, which comprise discussion groups with mentors, one-on-one mentorship, and group learning. If you're interested in becoming a mentor, sign up here!
Congolese Integration Network's Youth Support Program puts on a soccer tournament
Congolese Integration Network (CIN), a grassroots partner organization of RVC that facilitate the integration of Congolese immigrants and refugees into American society, recently put on their first youth soccer tournament, through CIN's Youth Support Program. To encourage physical health, the soccer tournament aims for participants to partake in physical expression and fitness development.
As stated on CIN's Facebook page, "We are excited for the progress that our very young CIN Youth Support Program's Soccer Team have made so far, calories they have burned, traumatic healing, and the great sense of belonging developed throughout this process. We are looking into the sustainability of this program and growing stronger and stronger!" Make sure to check out RVC's recent blog on CIN's important work, which also talks a little about this soccer tournament and their intentions behind it!
Totem Star's fundraiser gala, The Spotlight, celebrates community action through performances
Totem Star, RVC's partner organization that supports a diverse community of young recording artists by fostering growth through collaboration, mentorship, and engaging through music as a universal language, recently held their 2nd annual fundraising gala, called "The Spotlight." The event featured cocktails, a silent auction, a family-style dinner feast by chef Melissa Miranda of Musang Seattle, and performances by Totem Star's inspiring and talented young recording artists.
The event served as a celebration of youth leadership and community action, placing the mic in the hands of youth fighting and working to change the world for the better through music. According to Totem Star's Facebook page, "Our loving community sold out the theater and gave generously to keep the doors of our studio and stage open for our talented young recording artists working tirelessly to heal this world through the universal language of music. Thanks to you, we raised over $50,000!!! Much love and aloha!" Go check out the promo video that screened at the Spotlight 2019!
Be a Changemaker
RVC Changemakers are folks who believe that leadership development and capacity building in communities of color should be spearheaded by the individuals working within these communities. By committing to giving $80 or more a month, you will be making a pivotal impact in communities of color in the Greater Seattle area.
Changemakers will get a shoutout in our annual report, be invited to our special events, be invited to further engage in other ways, such as through volunteering, lunch and learns, or maybe even mentoring. Our Changemakers will also just be lavished with so much appreciation for their commitment to social justice at the grassroots level!
Job Opportunities In Our Network
RVC is hiring a Capacity Building Lead , Operations Manager and Grant Strategist.
Families of Color Seattle is hiring an Executive Director.
Bike Works is hiring for multiple positions.
Casa Latina is hiring a Development and Communications Director.
The Mockingbird Society is hiring for multiple positions.
PHPDA is hiring an Executive Director.
Literacy Source is hiring for multiple positions.
Stolte Family Foundation is hiring an Education Program Officer.
United Way of King County is hiring for multiple positions.
Ethiopian Community in Seattle is hiring an Executive Director.
Big Brothers Big Sisters Puget Sound is hiring for multiple positions.
Seattle Neighborhood Group is hiring for an Executive Director.
Washington Nonprofits is hiring for a Census Manager.
Urban Impact is hiring for a Development Associate.
Voices of Tomorrow is hiring for multiple positions.
Rainier Beach Action Coalition is hiring for multiple positions.
The Sophia Way is hiring multiple positions.
Solid Ground is hiring for multiple positions.
Washington State Coalition Against Domestic Violence is hiring for multiple positions.
Community Events & Important Dates
Nov. 17: All Proceeds from services at Foxycut Salon on Sunday, Nov 17, will be donated to RVC! Book an appointment with a stylist today! Thank you, Foxycut!
Oct. 24 SURGE & JUST US: On the Frontlines of Abortion Rights
Oct. 26 Puget Sound Sage's 2019 Community Leadership Institute Kick-off
Oct. 27 FOCS Workshops! Teaching Consent & Parenting as Survivors
Oct. 30 Renton Innovation Zone Partnership's Math Night
Nov. 2 Somali Health Board Annual Gala 2019
Nov. 15 Fresh Flavor, Feest Fundraiser
Nov. 16 Institutional Racism and Implicit Bias, Part 1
Nov. 19 Somos Seattle's Volunteer Connect
RVC Stuff To Read
An update on RVC's search for Vu's replacement. Written by Vu Le, RVC Executive Director, and Estevan Munoz-Howard, RVC Board President
We have a new look! Written by RVC
RVC Community Impact alumni push for HEAL Act. Written by Former RVC Fellow, Hana Gregory
Never want to miss a blog? Subscribe to our Change-Makers Blog!

---
If you have job postings or events that you would like mentioned in our newsletter, please email the details to Stacy. We do our best to fit everything in, but we may not always be able to.