By Rainier Valley Corps
Without a doubt, there's been important progress for the LGBTQ+ community in the past decade: same-sex marriage legalized nationwide, widespread media representations, and the myriad of pride festivals that now exist across the country to celebrate equality and spread awareness. 
However, there are segments of the LGBTQ+ community that remain marginalized and exploited. Oftentimes, those that benefit from these movements are the most privileged, including white, gay cis men. 
Which is why it's now important more than ever to support the organizations out there that fight for and uplift these marginalized groups.
Somos Seattle
Founded in 2017, Somos Seattle, an Operations Support Partner of Rainier Valley Corps (RVC), is an organization that lifts up and celebrates LGBTQ+ Latinx folks. Somos' mission is to build and sustain an active and engaged community, one that provides a framework to share resources and to create spaces to learn, grow, and thrive. 
"Somos is about community-building, online and offline. [It's about] connecting through community events and online exercises," said Ray Corona, Executive Director of Somos. 
Ray was recently recognized for his work for Somos, by Seattle Mayor Jenny Durkan. Ray received the Mayor's Emerging Leader Award on June 26.
And what Ray ultimately wants is to advocate for immigrants and the LGBTQ+ Latinx community — by increasing visibility to issues that these communities face. He wants to ensure representation within the political system, build community through shared experiences, and work through and advocate for solutions to these various challenges. 
Creating and heading Somos Seattle is an avenue to do just that.
On creating space for engagement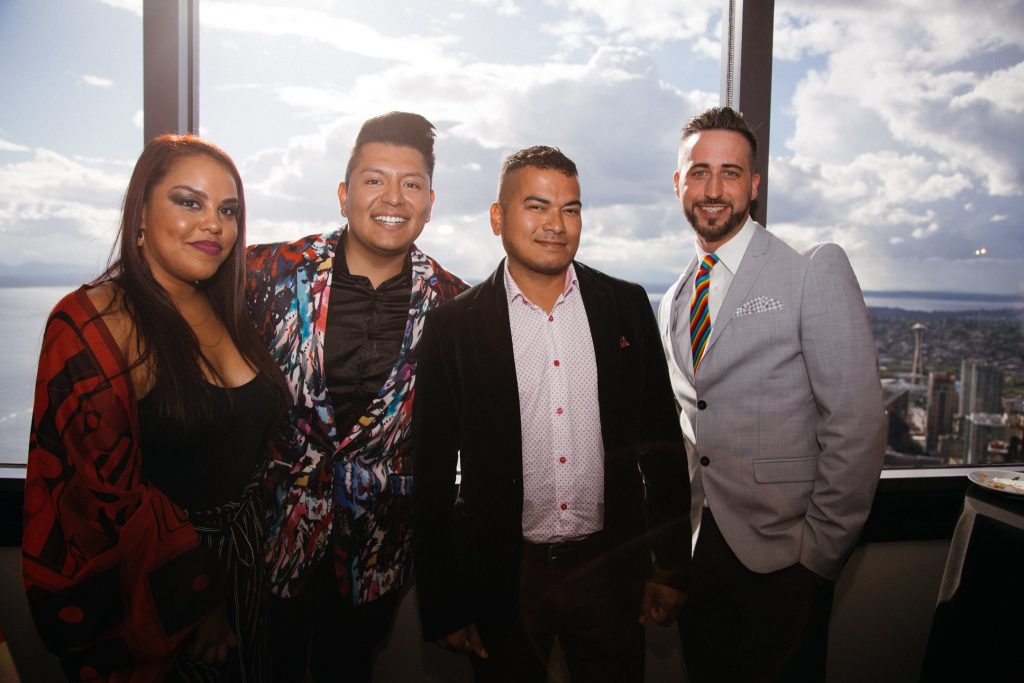 Somos Seattle is all about getting people to engage with the community and to feel like they have a space that feels safe and supportive. 
To get people to interact with one another within this community through online exercises, Somos Seattle encourages participants to tell their stories and submit their creative work through Somos' website. Somos promotes and publishes these pieces through their social media accounts. (Go here to participate or to learn more.)
In addition to creating an online space for people to share and connect, Ray is also busy pushing for avenues for people to celebrate and build community by putting on a bunch of events this summer. 
Somos' 50 Years of Pride Celebration took place at the Columbia Tower on June 6. It marked the 50th anniversary of the 1969 Stonewall Uprising, a pivotal moment in LGBTQ+ history. Somos' celebration honored the history as well as held up the milestones, advances, and liberation that the movement has paved the way for, in the last 50 years. 
Later this summer, on July 20, Somos is proudly putting on its 3rd annual Seattle Latinx Pride festival. 
"The purpose of the festival is to embrace and celebrate the intersections of being queer and Latino/a/x," said Ray. 
"As we celebrate 50 Years of Pride and [the] Stonewall Riots … I'm ready to continue the community's legacy by fighting for another 50!" he said on Facebook.
The festival will highlight the many ways the Latinx community has contributed to the LGBTQ+ movement. Seattle Latinx Pride will offer entertainment, dance music, food vendors, photo booths, and a safe space for those in the community to share resources. (Also, everyone is invited, so please come and join in on the fun!) 
The event takes place at Plaza Roberto Maestas — El Centro de la Raza at 2601 17th Avenue South in Seattle. (For more information on the Seattle Latinx Pride festival, visit the event page.)
Partnership with RVC
RVC is proud to have Somos Seattle as its Operations Support Partner. One of RVC's missions is to provide administrative support for smaller nonprofit organizations through our Operations Support Program. By streamlining and offering quality back-office support, our partners can maximize and grow their services, continue to effectively empower communities, and continue to change unjust policies and systems. 
"RVC's support has helped to keep us on track for our organization's growth," said Ray. "They have put plans in place to establish and foster our board and operations." 
---
In order to connect with Somos Seattle and its community, you can volunteer to help make Somos' year-round events successful. No experience is necessary and training is provided. In addition, Somos wants to showcase Queer Latinx talent and puts on events to do so year-round. If you are interested in participating, register here. 
If you wish to donate and help Somos' mission to empower the community and expand their reach, please do so here.