Summertime is upon us, which means that we get to celebrate those who are graduating and moving onto new and exciting ventures. (Spoiler: We're honoring our Fellows with a graduation dinner on July 18, details below!) While now is a great time to reflect on accomplishments, we're still hard at work and eager to share some Rainier Valley Corps-related news and upcoming opportunities.
This month, we are featuring some of our upcoming events as well as saying a few words about our Executive Director, Vu Le, who will unfortunately (and fortunately for him because he needs a break!) be stepping down by the end of the year.
---
Can you come to RVC's Community Impact Fellows Graduation on July 18?
We'd love for you to join us in celebrating the graduation of RVC's Community Impact Fellows. We're doing it with a community dinner, the theme of which is "The Brightest Stars," a nod to how awesome our Fellows have been. The celebration takes place on July 18 at 5 p.m., at the New Holly Gathering Hall in Seattle.
RVC's Community Impact Fellowship Program is a two-year program that places Fellows who are POC at host grassroots organizations led by communities of color. We provide them with the necessary tools to further develop their leadership skills and knowledge in nonprofit management, capacity building, civic engagement, and working with diverse and dynamic communities. They bring the passion, hard work, and inspiration in building up communities.
Our current cohort are completing their two years — wow! We are super excited to celebrate this. Come through!
BTW, if you want to learn more about our Fellows and their impact, check out the program's info sheet.
---
Meet RVC's new Operations Support Partner Organizations
We are excited to give a shoutout to our new Operations Support Partners. You'll learn more about them in the coming months, but here's a quick rundown!
Surge Reproductive Justice — An organization that fights for communities whose bodies, lives, and families have been subject to state and social control. Their work involves ending reproductive oppression and ensuring access to reproductive health services and economic security for all people.
WA-BLOC — A group that empowers youth of color through academic, creative, and place based leadership. WA-BLOC envisions intergenerational leadership, restorative justice, racial equity, and youth and parent engagement to achieve transformative educational excellence for Black and Brown youth in South Seattle.
All Girl Everything Ultimate Program — A program that strives to strengthen the Southend youth community through ultimate frisbee and other physical activities, organized by and for coaches, players, and alumni. AGE UP also runs social justice cohorts and hosts free summer camps and tournaments.
First Five Years & Beyond — An organization that ensures children from low-income families in Africa are given the opportunity to get an early start to begin and continue their education. Their programming provides parents with the resources and skills to advocate for their children and support early literacy in Africa.
---
Vu to Take a Much-Earned Break at the End of the Year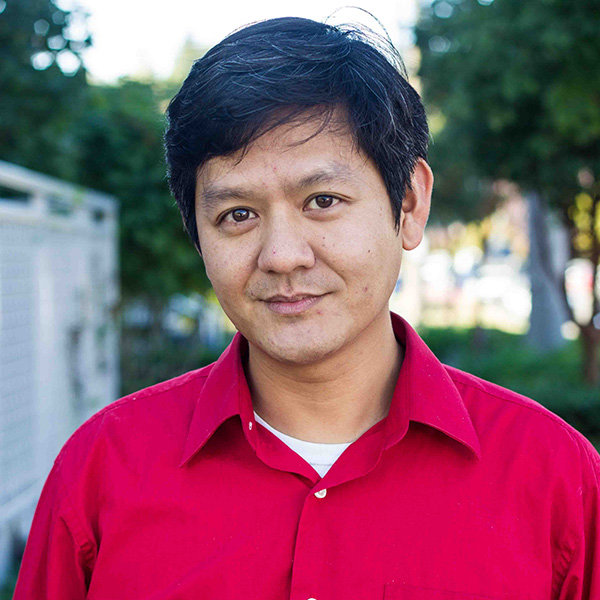 Our ED, Vu Le, will be transitioning out of his role, with a completion date of December 2019. While we are really bummed anticipating his departure, we're also really happy for him for this decision.
Vu says that he is stepping back from the organization because he feels confident about RVC's current track and its continuous growth. The main impetus behind his desire to scale back his work load and take a break from nonprofit work (he's been an ED for a looong time) is because Vu wants to spend more time with his family, especially his young children.
RVC started out as a pilot fellowship program with just one staff member: Vu! In the five years since, RVC now has 12 staff members, 20 partner organizations, and 27 fellow alumni, nearly all of them continuing critical work in communities of color.
The RVC board will spend the coming weeks evaluating and exploring leadership structure and figuring out the best path forward that will be most in line with the organization's culture and values. We'll share information on the new ED search with you soon!
To read Vu's letter, in addition to a letter from RVC's board president, Estevan Muñoz-Howard, check out our News section on our website.
---
RVC Partner Updates:
Puget Sound Sage and Got Green calling on local government to support Green New Deal
Puget Sound Sage and Got Green, two of RVC's partner organizations, are calling on our local government to adopt and support policies outlined by the Green New Deal. Puget Sound Sage recently posted a blog discussing the benefits that this policy can have on our local community, including building jobs, cleaning our air and water, and ultimately leaving a healthier environment for our future generations.
What's inspiring is that these organizations have been working tirelessly to bring awareness to these issues by building a coalition with organizations like SouthCore, Front & Centered, and the Alliance for Jobs and Clean Energy.
They are now calling for significant contributions on the local, state, and federal levels to address issues of building living-wage and unionized jobs in renewable energy; affordable and energy-efficient public transportation and housing; supporting businesses transitioning out of the fossil fuel industry; and providing assistance with energy bills, weatherization, and transportation costs for low-income people.
Rainier Beach Farm Stand soft opening and grand opening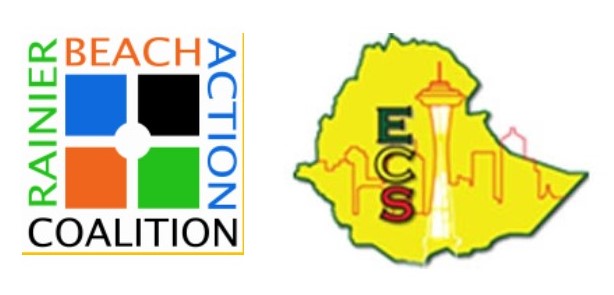 We are excited that two of our partner organizations, Rainier Beach Action Coalition and Ethiopian Community of Seattle, recently co-hosted the Rainier Beach Farm Stand soft opening on June 15. The grand opening will be on June 22. The event took place at the Ethiopian Community Center and gave an opportunity for visitors to talk to farm stand fellows and meet members of the community while shopping for healthy, fresh produce grown by local farmers!
The project came about after a series of conversations among organizations serving communities of color. The farm stand provides a way to help address south end health disparities, promote local gardening projects, and support local businesses owned by people of color. In addition, this is a neighborhood-led response to closing the gap in food access for the Rainier Beach area.
The Rainier Beach Farm Stand operates weekly throughout the summer. Everyone is welcome, so we encourage you to drop by, say hello, and enjoy fresh produce, while supporting local businesses!
Totem Star spotlights artist Gray Luvay and her new song "Remidiez"
RVC's partner organization Totem Star supports a diverse community of young recording artists by fostering growth through collaboration, mentorship, and engaging through music as a universal language. In a recent artist spotlight and music newsletter, "The Song," Totem Star interviewed pop singer-songwriter Gray Luvay and featured her new song, titled "Remidiez."
In the interview, she talks about how Totem Star has made her feel welcomed in a new city and connected her to many talented and supportive individuals, many of them artists themselves. She is also grateful for the mentorship and guidance that have uplifted her and motivated her to push her creative boundaries and go beyond her comfort zone.
Read the interview here, and make sure to check out the music video for her new song. You should also explore and read about other artists involved with Totem Star in The Song!
Support RVC
Have you joined our Champion Unicorn Giving Club yet? Becoming a Unicorn member today supports our Community Impact Fellowship Programand our Operations Support Program.
For $25 a month, you can become a Unicorn Member, and it comes with a bunch of perks. Unicorn membership includes:
Tickets to our Board Reception
Your name being recognized in our Annual Report
A letter of appreciation from our board chair
RVC designed T-shirt
RVC unicorn stickers
RVC phone stand ring
RVC logo pens
Become a Unicorn member and support the community you know and love. Join us today!
---
Job Opportunities In Our Network
RVC is hiring an Organizational Learning Coordinator and an Operations Support Program Manager.
United Way of King County looking to build team for their Summer Meals program.
OneAmerica is hiring an Organizing Director.
Spark Northwest is hiring an Executive Director.
Ethiopian Community in Seattle is hiring an Executive Director and Program Manager.
Puget Sound Sage is hiring a Development Coordinator and Coalition Organizing Director.
Voices of Tomorrow is hiring for multiple positions.
Rainier Beach Action Coalition is hiring for multiple positions.
League of Education Voters is hiring for multiple positions.
Philanthropy Northwest is hiring for multiple positions here and here.
Solid Ground is hiring for multiple positions.
Seattle University is seeking a Systems Support Coordinator.
Ventures has multiple job openings.
Washington State Coalition Against Domestic Violence is hiring for multiple positions.
---
Community Events
June 21 4th Annual Summer Kickoff Youth Arts Showcase
June 27 People vs Profit: The Truth about Displacement
June 28 Trans Pride Parade
June 29 Washington State Congolese Summit
June 29 Autism 101 & Early Intervention Family Workshop
June 29 Spirit of Africa Festival 2019
July 2 Samoa Cultural Week Presents "Day of Empowerment"
July 20 Seattle Latinx Pride
August 3 CID Block Party 2019
August 10 Annual Rainier Beach Back 2 School Bash
---
RVC in the News
Fast Company recently posted an article that quoted our ED, Vu, regarding compensation concerns in the nonprofit sector and the unfair pay gaps that exists among employees.
---
Read Our Latest Blogs!
How Somali Doulas promotes positive birthing experience through education, respect, and empowerment. Written by Rainier Valley Corps
It's been quite an adventure! Written by RVC Executive Director, Vu Le
A Tale of the Three Cows and One Malicious Lion. Written by RVC Community Impact Fellow, Mohamed Shidane
We Support Survivors! But are we ready to be accountable? Written by Former RVC Fellow, Uma Rao
Never want to miss a blog? Subscribe to our Changemakers Blog!
---
If you have job postings or events that you would like mentioned in our newsletter, please email the details to Stacy. We do our best to fit everything in, but we may not always be able to.