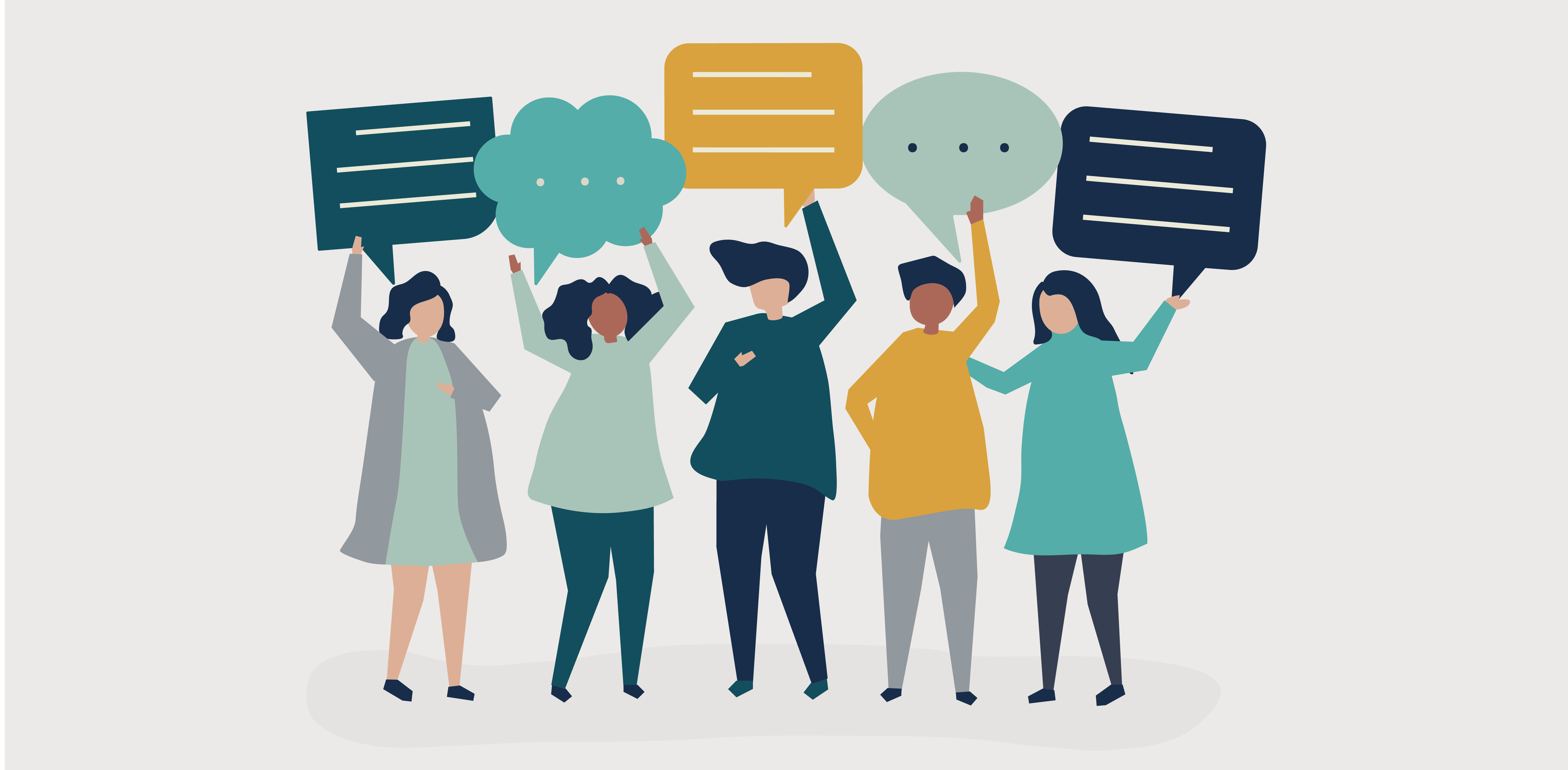 By Uma Rao, RVC's Former Capacity Building Coach
Readers, I offer this to you right away: This post might raise more questions than offer solutions. Hang in there, and stay with me because the questions are juicy!
It all began a few months ago, I wrote a blog post asking the nonprofit sector if we are truly thinking about survivors of violence and #metoo. After that, a group of very smart people joined me to discuss how they have thought about this issue in their own organizations. This group included a funder, a member of a statewide domestic violence support coalition, and other professionals from nonprofits with a feminist lens, who have experience working on solutions.
The biggest takeaway from this conversation? It's complicated.
Let's embrace complexity
When we work in a field that purports to promote social justice, what do we do when we feel like we are coming up short when it comes to supporting survivors of violence and the #metoo movement? Well, as I have learned, proposed solutions often just create more questions. No matter how this issue is approached, the complexity of it can get overwhelming, to the point that it can discourage positive action.
However, I believe that it's actually so important to sit in complexity. It is invigorating to think through complexity. Think about it. There are actually no simple solutions to the really hard problems — ever. If there were easy solutions, well, we wouldn't have hard problems at all!
It's important to embrace complexity because the harder it is to come by a solution, (the more mistakes we unintentionally make and acknowledge and learn from), the more sure we can be that we are truly attempting to address the problem.
The funder in our conversation, Social Justice Fund NW (SJF), said a major concern and question they have is when is it right for them to get involved when they hear of a grantee's internal issues regarding sexual harassment?
What is the funder's role in this scenario? Can a funder support survivors without overstepping and micromanaging the grantee?
What's the policy?
SJF is also in the process of revising its own personnel policies. Mijo Lee, Executive Director of SJF said, "We want an anti-harassment policy that is focused on protecting the person who is feeling unsafe rather than the organization's liability. And, we want to recognize that harassment that can occur in various relationships, not just between coworkers."
It turns out, this is incredibly hard to figure out.
At RVC, we have a basic anti-harassment policy that aims to support survivors, yet it doesn't have much in the way of accountability, except to state detailed instructions on who to report to. Our policy then offers, "Appropriate corrective measures will be taken if allegations of retaliation are substantiated."
It sounds a lot like many other policies out there — well-meaning, but a little vague and unstructured because, well, we are just not sure what is the best course sometimes.
A more robust policy would actually define what corrective measures would be, as well as how allegations would be substantiated. A robust policy would also cover what happens if an incident occurs with external parties that RVC holds no legal purview over.
A small team within our staff has been talking about what we would do if someone attended a public event of ours and was called out to be an abuser — and this is tricky, too. Would we ask them to leave? Would we publicly shame them? Would we hold them accountable at all?
Just what is RVC's role as a community convenor?
What does accountability really look like?
Devi, Founding Executive Director of Peacock Rebellion based out of the Bay Area, has some great insights. "Our communities of survivors have been taught that it's not okay to express boundaries. So many of us, myself included, have had our boundaries taken from us, both through explicit acts and through a culture that chips away at them over time. So practicing boundary-setting is key to our work."
Devi added that leaders in the sector are noticing a cultural shift:
People are using the language of 'community accountability' to mean 'punishment' instead of real, transformative healing of harm for everyone involved (survivor, perpetrator, bystanders, their kinship networks, and our larger communities).
We have a call-out culture (as opposed to a call-in culture), which is being used as the first strategy to get 'punishment' rebranded as 'community accountability.'
Also, even in the #MeToo era, some community leaders are framing sexual boundary-crossing like flirting and other kinds of sexual harassment as 'sex-positivity.' Even activist circles don't have a lot of practice with taking accountability and of thinking together about what accountability and healing could really look like.
Devi described a few different instances to me, of a perpetrator performing a show in their community or coming to an event — which made a survivor and fellow community member feel really unsafe.
The survivor challenged Devi and Peacock Rebellion, as an individual leader in the community as well as a beloved community organization, to publicly call out the perpetrator and to ban them from events.
Devi felt that Peacock Rebellion's role is not to ban people from public events; they didn't want to isolate the perpetrator so that the person, excommunicated from community, moves somewhere else and continues harming.
Devi said, "We recognize that often, someone who is perpetrating is also a survivor themselves."
In the past, Peacock Rebellion has tried to take a more personalized approach to supporting survivors. In some cases, they worked separately with a survivor and a perpetrator ahead of time so that both could access community events at different times, to get access to healing resources. They wanted survivors to be able to prepare themselves to make a choice on attending public events where they might see their perpetrator.
And like many in the anti-violence movement, they want to reframe what accountability looks like.
Devi is asking, "What if we tried to create accountable communities versus administer community accountability?"
Take a minute to let that sink in. Devi is asking us to create a shift in the culture of accountability, rather than trying to further "police" a situation that is more complex beyond anything one leader or one organization can do.
What might this look like?
Safety is a team effort
The Queer Women of Color Media Arts Project (QWOCMAP) hosts its own film festival each year, and Kebo Drew, their Managing Director, spoke about similar concerns. She said that during a film screening almost a decade ago, several people felt triggered by the content, and had very public reactions based on those triggers. The organization ended up calling on audience members that had crisis counselor training, including herself.
After this experience, the organization built a safety system for event attendees, which included adding content warnings on their website and at the beginning of film screenings, as well as collaborating with anti-violence organizations across the country to create a safety statement and safety practices.
QWOCMAP then created a safety crew, which did some thinking and writing about how to continue creating safety practices for their events. The safety crew brought anti-violence support, community mental health practitioners, and crisis counselors from San Francisco Women Against Rape to offer support at the event to anyone who needed support.
Also, the safety crew currently helps to manage certain problematic social dynamics at events.
Kebo described a time where there were some loud offensive comments coming from some young men, after which they got pulled aside and the safety crew discussed their behavior and QWOCMAP values around respect.The young men heard the feedback from the safety crew and then stopped the behavior.
"It was really chill," Kebo said, because it became a matter of following through on their setup, describing their expectations of safety from their space.
Back to this: What's our policy, exactly?
At RVC, we started discussing this concept. If we created a safety team, what would its role be and who would we be accountable to, and what can we take responsibility for?
We're in the process of figuring this out:
Here are some things we figured out:
We believe survivors, and want to have a survivor-centered process.
We want to be a part of creating accountable communities.
We are still debating on the "how" on both of these things. We are still just not sure how far to get involved with individuals, though we know we are not going to ban people from our events. We are not in the business of labeling survivors or perpetrators, or getting involved in mediating relationships between two people. It's not our expertise and it never will be.
We're currently asking ourselves, what else will it take to create accountable community and who needs to be involved? How can we convey support while not promising concrete accountability? (Is that even acceptable?)
What can we offer? What concrete actions are we willing to take?
One thought we had was to explore supporting community partners such as API Chaya with expertise to facilitate a transformative justice process. A transformative justice lens acknowledges that those who cause harm have likely been harmed themselves; it aims to acknowledge the harm done to a survivor while also encouraging healing to both the survivor and the perpetrator in the process of accountability. The rub here? As Joanne Alcantara, Executive Director of API Chaya explained to us, "Our process may not always offer a conclusion that is satisfying to all parties involved, and we have to be okay with that."
We know that this can feel risky, but we must rely on this fact: Often, making mistakes and fumbling your way through a process helps you understand how you want to do it better.
As many have pointed out, our sector is barely talking about sexual harassment in our community work, which is why imperfect, but steps toward possible solutions is more important than no action. We have to move forward, even when we make mistakes. We need to commit to intentional, comprehensive learning.
While imperfection is a huge fear for many of us — wouldn't you say the risk is worth it, if we can eventually create truly accountable communities?
Do you have training, expertise, experience to offer RVC as we figure out a process and a code of conduct for our public events? Please contact Flo, a member of our safety team with your ideas.
Many thanks to Devi, Kebo Drew, Mijo Lee, Joanne Alcantara and the RVC Safety Team for their input to this article.