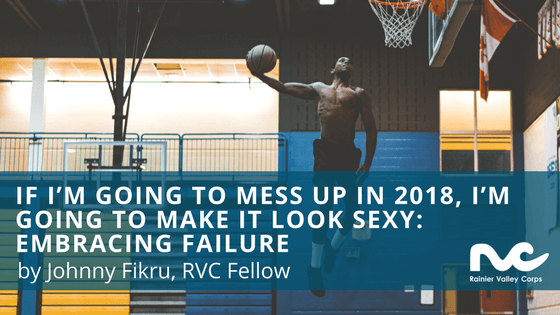 Ever wanted to try something new, but felt incapable of accomplishing it? Maybe you've wanted to master the skill of coding. Perhaps you have been procrastinating from starting a podcast or even learning how to box. Whatever the case may be, many of us may be facing a common impediment when wanting to achieve our aspirations. It's something that holds us back and maintains complacency in our lives. I'm alluding to that feeling of failure.
Though, I think that it's our perception of the fear of failure, which is the real issue.
We live in an era where the thought of a misstep holds so much power that the act of attempting something new or challenging is ridiculous. To paraphrase sports personality Lavar Ball, we get too comfortable with the skill we have that we try to 'stay in our lanes.' Additionally, the old adage "failure is not an option" further drives a narrative that mistake-making is frowned upon. We have given so much power to the fear of failure that we paralyze ourselves from fulfilling our dreams and aspirations.
I must highlight this point! We stop ourselves from being great because the possibility of failure is so frightening that we'd rather not risk it.
I understand this sentiment wholeheartedly. For me, whenever I'm about to step outside of my comfort zone, my mind immediately thinks about the consequences of messing up. It usually consists of feeling embarrassed and inadequate and intensifies my imposter syndrome. These feelings feel heavy and often stifle my personal and professional growth.
That's why I'm advocating we all push back against this mentality in 2018. We really need to create a transformative shift in our minds to center the benefits of failure. Let's celebrate failure. Let's make it look sexy. Why? Because I believe we can gain so much more from this outlook.
One of the more important lessons I've realized about acquiring a new skill is what I call " Learning in Action." I define L.I.A. as acquiring knowledge on an activity or an issue by jumping right into that activity and doing, rather than investigating and exploring that issue. I want to be clear. I am not discrediting the research. I'm just saying that putting yourself in the environment and seeing how you operate in the situation can be the best kind of learning.
One of my responsibilities at Got Green is to be a public voice for my organization. This means I engage in public speaking events at workshops, panels, and conferences. Public speaking is not my favorite activity in the world. (In fact, there are many moments before a speaking engagement where I get dizzy, palms start to sweat, and I look like I've seen a ghost.) It's a skill that I've always wanted to get better at, but I have always had a fear of messing up publicly. To prepare for my first speaking engagement, I did what most millennials did when they needed help: go to the Internet, and search "how to be an effective speaker." To some extent, I remember the research provided fairly helpful advice. Suggestions of repetition and awareness of body language were concepts I considered in preparing for events.
However, when it came down to it, presenting workshops and speaking at conferences provided me the opportunity to reach outside my perceived capabilities. Putting myself in the environment and stepping outside of my comfort zone provided me the chance to see how I would operate speaking in public. I remember feeling relieved and accomplished just for conquering one of my greater fears.
Sure, I may have jumbled my words, or I could have been louder. But being able to experience this helped me understand these areas for improvement. This actually helped me prepare for my next speaking engagement. And the one after that and so on.
Learning by doing has allowed me to understand my strengths and what I need to improve on. Combine that with a willingness to fail, and you have everything you need to become the best version of yourself. Having done multiple workshops, I truly feel more comfortable and feel the improvement in my public speaking skills. My voice doesn't feel as shaky as before.
Like anyone who is trying a new sport, it's not so easy the first couple times, but with enough practice and determination, you eventually get the hang of it. Additionally, we need to remember the greats of our time didn't always start out as the greats. Michael Jordan was cut from his high school basketball team. Queen Beyoncé lost the music competition Star Search to an all-male rock group. No one believed in Kanye as an artist because they saw him only as a beat maker. These folks had to put in thousands of hours and failed plenty of times to harness their gifts. So often, we tend to romanticize talented folks as being naturally gifted. But this logic erases the hard work necessary to become the figures that they are today.
Interestingly enough, on January 7, Will Smith took to social media to discuss the importance of failure. "Fail early, fail often, fail forward." Failing early allows you to learn what needs to be improved. Failing often means you are consistently engaging in challenging activities that push your limits. And failing forward means that each misstep will eventually lead you to move forward and eventually succeed in what you are trying to accomplish. Can't argue with the Fresh Prince.
So, for the new year, let's embrace failure because it creates an opportunity for us to evolve. Whether we admit it or not, growth is something we all crave. I am not nor would I want to be the same Johnny as I was ten years ago. I can truly evolve by challenging myself and allowing the risk of failure. We must get uncomfortable. And if we fall down, we must pick ourselves up and go at it again. To close, I want to shout out my boy Kahreed who used to say, "A setback ain't anything more than a setup for a strong comeback."
Here's to more setbacks in 2018!
Sign up for RVC's mailing list and get the latest news. Don't worry, we won't email too often. You can also sign up to follow RVC's blog by email. Enter your email address below and get notice of awesome new posts each Wednesday morning. Unsubscribe anytime.