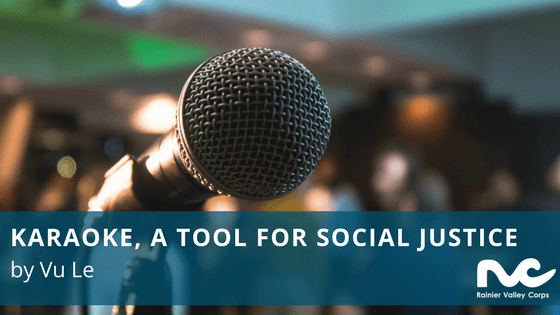 A few months ago, RVC had a karaoke throwdown with Social Justice Fund Northwest, initiated by our Capacity Building Coach Uma Rao. About 20 of us—staff and board members from each organization—packed into a small dark room, and we cranked out various songs. I suck at Karaoke, but I think I acquitted myself well enough with a rendition of Blackstreet's "No Diggity." Not to be outdone, SJF's Executive Director Mijo Lee busted out an incredible cover of Salt-N-Pepa's "Shoop," accompanied by one of RVC's alums, Selena. RVC's board chair, Estevan Munoz-Howard, crooned Sinatra's classic, "Moon River," and made each us fall in love with him all over again.
At the end, we are not really sure which team won (*cough* RVC), but it was one of the best days I had during a really stressful year. We are planning another throw-down, this time pulling Chief Seattle Club into the mix. I hear there might be choreographed team numbers, which sounds kind of terrifying. I mean, we talk about the delineation of board and staff responsibilities in the sector, but where does "choreograph a team dance for a karaoke throwdown with other nonprofits" fall?
You may be thinking though, "Why are you singing and dancing? You are social justice organizations. Shouldn't you be doing…work?" That's reasonable to ask, but I think maybe our work would be more effective if we take more time for things like karaoke. There are a few reasons I can think of:
We can better relate to one another as human beings: Unfortunately, we mainly know and interact with one another through our work. It is so severe that when I run into people outside of work, like at the grocery store or movie theater, I sometimes forget who they are. And then they're like, "It's me…Zeke Spier…your board treasurer these past two years?" By only relating through our work, we forget the humanity of the people around us. We forget that they have lives and personalities and talents, and that they are complex, whole people. This applies also to organizations; we think of organizations in the abstract, like a formal entity instead of teams of complex humans who are feisty and hilarious. Seeing the wholeness and the people we serve is critical to this work, but we also need to see our colleagues in the same way.
Some of the best ideas and collaborations happen when we are outside our usual settings: When we are in different environments, our brains are activated in different ways. We become more creative, more spontaneous, more likely to take risks. This is why some of us get brilliant ideas when we are in the shower, or taking a walk, or vacuuming. Some of the best collaborations happen when we don't think about collaborations at all, but rather when just take some time to hang out. I've seen it happen all the time, organization leaders just getting a beer together with no agendas, and magical things happen later, sometimes way later. We should create more of these opportunities.
Most effective teams are ones where people hang out socially: They have done lots of studies that find correlations between effective teams and the social bonds between them. Highly effective boards, for example, are ones where the board members actually like hanging out with one another even when they are not discussing the organization. Communications are better. Morale is increased. Attendance is much more likely when you know you'll get to see people you genuinely like. All of us are so focused on the work at hand that we do not spend enough time creating an environment where people actually like being with one another.
It is an effective form of self-care. We talk a lot about self-care in this sector. I think getting to know other organizations is one form of self-care that we have been underusing. The work we do is complex, sometimes heartbreaking, often exhausting, always relentless. It is nice to know that there are others outside our organizations working on these issues, that they too face the same challenges, and that they have the same resolve and dedication. It makes the work less lonely, more doable.
So, with all those and other reasons, we need to do this more often. These times when we slow down to get to know other organizations and one another are not a waste. They actually make us more creative, strengthen collaborations, and increase morale. When the Nonprofit Hunger Games are the norm, it is essential that we carve out time to get to know other organizations and our colleagues in the field.
So, RVC is declaring Friday, January 12th, 2018 the first National Nonprofit Karaoke Show-Down Day (NNKSD). Reach out to an organization or two that you know, challenge them to karaoke. Engage in some friendly trash talking. Tweet using #NNKSD. Foundations, you can get in on this too.
And if you hate Karaoke (like RVC's board Vice President does), that's OK. Whatever, do National Nonprofit Chili Cookoff (#NNCC). Or National Nonprofit Organic Kombucha Brewoff (#NNOKB). Or National Nonprofit Puppet Making Challengapalooza (#NNPMC). Or just get your boards and staff together and go out for ice cream sundaes or something. Point is, let's be intentional about building relationships with the other organizations in our community. And having some fun is one of the best ways to do it.
Now, if you'll excuse me, I have to go write a grant proposal, and then practice my dance moves to No Mercy's "Where Do You Go."
---
Sign up for RVC's mailing list and get the latest news. Don't worry, we won't email too often. You can also sign up to follow RVC's blog by email. Enter your email address below and get notice of awesome new posts each Wednesday morning. Unsubscribe anytime.