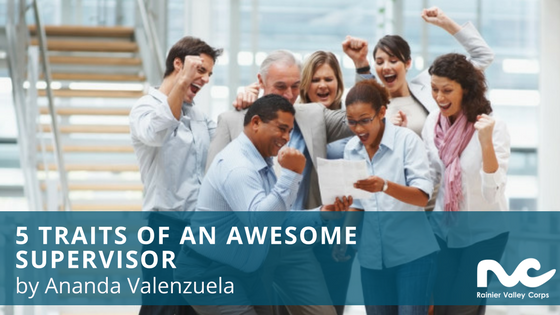 The biggest reason why people leave organizations is because they don't like their supervisor. Strong supervision is an investment in your employees' growth, which not only strengthens your organization but also builds the effectiveness of more awesome emerging leaders whose talents the nonprofit sector sorely needs.
Recently I trained our new cohort of fellow supervisors and was reminded of how universal certain supervision experiences are, no matter what your background is. Most folks do not feel they are great supervisors. This fits with what we tend to hear in the nonprofit sector; everyone has their horror stories of bosses gone awry, or the more prosaic tales of overworked supervisors who barely have time to hand off tasks, much less provide meaningful supervision.
So what does it take to be an amazing supervisor? Based on personal experience, conversations with our fellows and partner organizations, and the preponderance of literature in the field, we've identified certain universalities. No matter what kind of organization you are or what your personality is like, there are certain key tenets that always hold true:
Rainier Valley Corps has a deep commitment to paying equitable wages and is well aware of the problems the nonprofit sector has retaining staff due to poor pay. But we must not forget how important strong supervision is to retaining staff and hold ourselves and each other to higher standards when it comes to supervision. So, what do you think, are you an awesome supervisor?