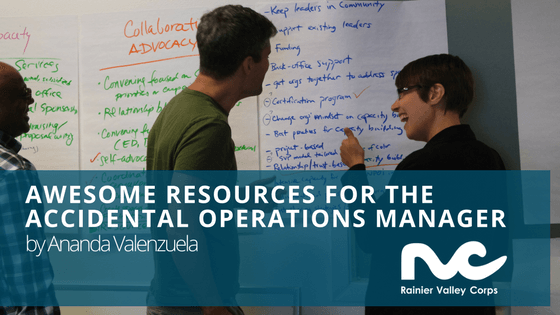 Have you been thrown into a situation where you are expected to manage operations, and are at a loss as to where one should even start? You're not the first- or the last. With operations management, the refrain "You don't know what you don't know" rings particularly true. Each area of operations is a whole world of its own, where people spend years developing specialized expertise in how to manage it well. But in small nonprofits, it's just not realistic to have an expert in each of these areas. So we make do.
I recently facilitated an operations management training for our fellows, and put together this list of materials, which serve as starting points for assessing particular areas of operations, so that you can have clear grounding in identifying where it is you should focus your time and energy to best improve the organization:
Finances
Human Resources
Information Technology
Legal/Risk
Change Management
Obviously you'll be quickly overwhelmed if you try to use all these tools at once, so be strategic. What areas are people complaining about the most? Where will they be most open to considering change? Pick one area, change some things that make things better for folks, and use those small wins to build up support for bigger organizational changes. For example, the Accidental HR Manager Checklist can give you quick insights into where you're falling short, with an easy path forward.
Do you have any favorite resources that you would add to this list? Please do share them!
About the author: Ananda Valenzuela serves as the Managing Director at Rainier Valley Corps. Ananda grew up in Puerto Rico and has slowly made her way across the continental United States, finally landing in Seattle to pursue her passion of doing capacity-building and leadership development with social impact organizations. She most recently worked at Third Sector New England, a nonprofit capacity-building firm, where she managed a consulting program and developed a fellowship program. She has also held a variety of consultant, governance and activist roles within the nonprofit sector. Ananda has a B.A. in organizational development and institutional ethnography from Hampshire College.
_________
Follow RVC's blog by email. Enter your email address below and get notice of awesome new posts each Wednesday morning. Unsubscribe anytime.