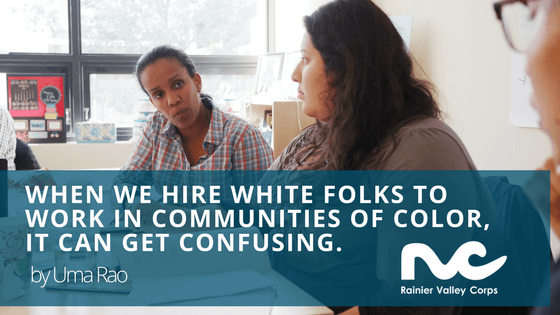 I moved to Seattle in 2004 to work for an organization serving South Asian women and families. Being a South Asian woman myself, I was thrilled at the thought of having a job that *paid* me to serve my community. In fact, that is still what thrills me about the nonprofit sector: we get paid to serve. While there are so many things to say about working in this sector, the joy of service and means of living intersect when you work in the nonprofit sector, and that's pretty cool.
When I moved to Seattle to work at that organization, the staff was majority South Asian. I also had a white woman as my colleague; she was in a direct service role, and everyone she worked with was a South Asian woman. I have to admit: this confused me. Why was a white woman working at an organization explicitly (in mission, vision, programming) serving South Asians? I asked our Executive Director, who explained to me that she was the most qualified of all the applicants to take on this advocate role, with several years experience in direct service working with immigrant communities. After working there a few months I saw that indeed, she was quite skilled at her job and many clients loved working with her.
As the community organizer, though, I was most often in external conversations with members of the South Asian community who asked me, "why do you have a white woman working there if it's an organization for Indians [replace "Indian" with Pakistani, Nepali, whichever community I was talking to at the time]?". "Well," I would explain with my 'stock answer' I created, "she has a lot of experience working with our communities, and a lot of experience working with the legal system, which our clients really need." I said it and moved the conversation along quickly, because I had nothing else I could say to address this question. It was awkward, and more importantly it was constant; I came across this question countless numbers of times in the years I worked there.
This confusion showed up several times, and not just externally; it surfaced internally as well. One time, the white colleague and I went to visit a client together. The client prepared a delicious meal, and we talked about recipes and many other things for a couple of hours. As we were leaving, she invited me to come back and have chai with her, and I said yes. My colleague later expressed disapproval, saying that it was unprofessional to build a personal relationship with a client. The conversation was complicated; I can agree that in a professional counseling/social work context, having a personal relationship with a client is looked down upon, for good reasons that I'm sure are rooted in Western practices and ways of thinking. However, she wasn't *my* client as I wasn't actually doing direct services, I just happened to go along that day to help with child care. Also, inviting people over and sharing chai is a daily occurrence in many South Asian communities; whether it's followed through on or not, the words "please come over again" are how you express a farewell in many of our languages. It was a simple cultural transaction. I ended up respecting the professional boundary and not following up with this client, and saw her again months later in communty.
Years later (after I had stopped working there), the organization was planning a performance arts project featuring South Asian women and their personal stories.This white colleague expressed interest in co-leading the project. As participants, my friend and I expressed our disapproval with this idea to the organizer. We couldn't imagine having a white woman in the room while we were sharing our very personal ideas in what was meant to be a space for South Asian women. It felt voyeuristic. I followed up on this complaint with a 1-1 conversation with this white colleague, who was my friend at the time. We had a long conversation where I explained that it didn't feel right for her to be present in the project, and I asked her directly, "why do you feel like it is okay to be leading this?" Her response was "Because this is a project of [the organization], and I'm a part of [the organization]." It was a simple response, and I couldn't argue with that in particular; yes, she worked there and was a part of the organization. But still, did that mean she could be leading a project that aimed to create a safe space for South Asian women?  The organization decided not to let her co-lead the project, and I'm grateful they took our feedback at the time.
I recently spoke to Polly Trout, a white woman who founded Seattle Education Access (SEA) in 2002. "The mission of SEA was to help marginalized youth get back on track with education. By walking side by side with these young people, most of whom were both people of color and grew up in intergenerational poverty, really radicalized my politics. I was a typical white lady, naive and ignorant," she chuckled. She told me a story of accompanying an undocumented student to a financial aid office, where the officer grilled the student with many questions, beyond what was even legal to ask. Polly said that the officer looked directly at her and said "I hope you understand, we have to be careful with those people."
"White people don't often see this despicable behavior in the daylight, right in front of them. We don't have to see it, we hide from it and we are protected from it," said Polly. Incidents like this sparked her journey and reflections. "By 2013, I had realized I made some really profound mistakes in 2002. My founding board was an all white board, which fed the white supremacy embedded in the culture of the organization. For that and some other reasons I resigned from SEA," she said. "After leaving SEA in 2014, I made a vow that I was not gonna apply for any jobs that would be better filled by a leader of color," she said.
"I started fantasizing about how I could do better if I started a new nonprofit." In 2013, she founded Patacara Community Services, whose mission is to provide compassionate services to those who are suffering; currently, their focus is providing supportive services to homeless populations. "Our organization grew slow in the first years; many people of color didn't believe that I was entirely committed to creating an anti-racist organization, and I was not willing to move forward without their support." She says that this year (2017), the organization finally hired staff for the first time, and is in the middle of a board recruitment drive, creating a governance board that reflects the diversity of the constituents the organization serves. In fact she is currently recruiting board members, and is specifically recruiting first and second generation immigrants.
So I wonder: can you work at an identity-based organization when you don't claim that identity as your own? Of course, the question is not actually this simple. There are nuances here: what makes an identity-based organization versus an organization that sees a particular identity in their services more than others? Would it be appropriate to have an administrative role and not an external role/one of direct service, if you don't identify with the community you are serving?
I also spoke with Dana Arviso, Executive Director of Potlatch Fund which inspires philanthropy in Northwest Native communities. One of her coworkers is a white man, and she shared similar experiences of being questioned about him working there. She told me that this colleague of hers has a long history with the organization and that he is incredibly thoughtful in building relationships with their community. This colleague's role is internally focused and they are thoughtful about this as well. For example, while he was the development director, Dana went to meetings with donors, and she still serves as the 'external face' of the organization.
"If you're going to be a white person working with communities of color you really have to know your role and know your place in the organization," Dana says, "You have to take it pretty seriously and understand the need for and how to practice cultural protocols." Perhaps most importantly, she said, "You have to be willing to hear when you've made a mistake and learn from that."
Dana also raised a great point. "I've worked with Native organizations for 15 years now. I'm Navajo, raised in a tribal community in California. Coming to Potlatch Fund, I had to learn the protocols and practices of 50 federally recognized tribes in the Northwest. It's always possible, even now, that I will make a cultural faux pas and not know it. What matters is having the genuine relationships with community members and building a level of trust, so that someone can guide you to know your place within the community that you're serving and the spaces that it's appropriate to be in."
After having all these conversations I'm convinced: the solution is to invest in leadership opportunities and nonprofit careers of people of color. I promise, I'm not just pointing this out because I work at RVC and this is what we are here to do. I just believe it's worth stating explicitly. When I think back to almost 15 years ago when I began working for the South Asian organization I mentioned, were there a lot of South Asian social worker/counselor types, looking to work at a nonprofit? I doubt it. What were the applicant pools like at that time compared to what is available now?
I also have questions for you,
If you are a white person considering applying for a job at an identity-based organization that serves communities of color, consider:
What is your role at the organization?
Is this role better served by a person of color?
What are you bringing to the position that is unique/value-add?
What are you doing to build capacity in that community?
Do you check your privilege daily?
Are you able to identify your biases, and do you know how they surface in your interactions and decisions?
And, I have two thoughts for you and your organization to consider:
You should know and acknowledge that you working there will be questioned, and the questions won't come to you directly as much. They will come to your colleagues who are from the community. Have you considered how you are positioning your colleagues in community? Has your organization had frank conversations about this? It seems like a healthy conversation for any identity-based organization to discuss.

You also should know and acknowledge that you will make mistakes in different cultural contexts, as everyone does. How do you respond to this, and/or what is the practice of the organization to acknowledge and learn from these mistakes?
By the way, I think this applies if you are a straight person applying for a position at an organization serving LGBTQ populations; an able-bodied person looking to serve differently abled communities, and so on.
I also have questions for you,
If you are a leader of color serving your community and you are considering hiring a white person:
Is this role internal or external? Is it direct service or administrative?
Are you prepared to answer questions from your community about them working there?
Were there applicants from your community that have many (but maybe not all) of the required skills, who could do the job with additional investments in professional development/mentorship?
Is there a plan to transition the position eventually to someone from your community?
And here's a thought for you to consider:
Leaders of community based organizations are busy and need experienced talent to get the job done, especially when each person is doing the job of many people at once. Experience is key to having someone come in and hit the ground running, so you screen primarily for experience. Still, I urge you to consider the longer term investment into someone from your community, even if they don't have a lot of experience. At this point, we are still looking at a numbers game–there simply aren't enough people of color in the nonprofit sector who are equipped with what they need to be leaders. Yet, we form nonprofit organizations to meet needs unique to our communities. It's time to screen for potential, and to structure in training and professional development for people in the community.
It's true, your needs might be met by hiring a white person with all the skills required. Consider though, how is this hire helping the sector? How is this hire helping to build capacity in your own community, in service of which you started the nonprofit to begin with? As I said in the beginning: to get paid to serve your own community is a thrill, and a rare opportunity. These opportunities should be reserved for those who identify with the community being served. Are you seeking information or support to do this? Contact me, let's talk. In fact, if there are enough of us, let's all talk about this further, together.
I want to be clear: I am not criticizing you if you are a white person working at an organization serving communities of color. I am not criticizing you if you are a leader of color who hires white folks to work in your identity-based organization (or anyone who doesn't identify with your community, for that matter).  Identity matters, and I know it's not the only thing that matters. We can see effective work and practice in many different scenarios.
I want to ask the questions: What are these scenarios? What 'legitimizes' identity-based work? And ultimately, what are we doing to build capacity for our organizations and to develop leaders of color? The applicant pools generally look better/more diverse than 15 years ago. But can we imagine 15 years from now, and does it look as diverse and skilled as it should to meet our needs?
More pertinent to my job and our team at RVC, the question is How do we get there?
About the author: Uma is the Capacity Building Coach at Rainier Valley Corps. Uma is a 2nd generation South Asian who grew up on the east coast and has made Seattle her home since 2004. She has spent over 15 years in the non profit sector; her roles have been to organize communities, serve on boards, train, and to raise funds, mostly within and for communities of color. Uma believes that strong movements include grassroots philanthropy, community based strategies and leadership development, and is absolutely thrilled to join Rainier Valley Corps in exact alignment with her vision! She's a lifelong learner and is grateful for her mentors, peers, family and community.
---
Follow RVC's blog by email. Enter your email address below and get notice of awesome new posts each Wednesday morning. Unsubscribe anytime.